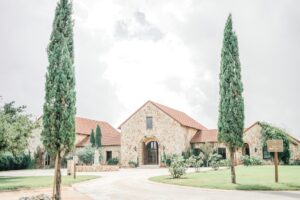 Day Trips Near Georgetown: The Vineyard at Florence
Just a half-hour north of Georgetown, The Vineyard at Florence is nestled on 600 acres in the Texas Hill Country. If you're a wine fan, The Vineyard at Florence has a wide variety of wines, several of which are award-winning. But even if you're not into wine, this vineyard and resort is worth visiting the next time you have an afternoon or weekend free.
This place is great for everything from weddings, honeymoons, retreats, fine dining, spa days, wine tasting, shopping, adding to your wine collection, corporate events, vacations, or simply enjoying an afternoon in a posh setting. There's no need to travel to Tuscany when you can have it all here—just a quick trip from Parmer Ranch!
History
To give you an idea of the history of the design of The Vineyard at Florence, here's a fun fact:
Their timber-frame Villa Firenze (their main building) was originally constructed in New York State around 1850. The building was transported, piece by piece, to its current location in Florence, Texas where it was rebuilt and restored. 
The combination of the expansive, rustic buildings and the sloping hills covered in vineyards gives off some seriously convincing Tuscan vibes. 
Vineyard
Whether you prefer dark and complex reds, crisp whites with citrus notes, or refreshing and fruit-forward rosé, they'll have something you're into. They've won several awards recently including the 2022 San Antonio International Wine Competition for their Picpoul Blanc 2018, and another Gold in 2021 for their Cabernet Sauvignon 2017. This hidden gem of a winery produces elevated wines, offered so close by.
Lodging
The resort (arguably) overshadows the vineyard because of its quality. From single rooms to villas, all lodgings are top-tier. But it's not just another 5-star resort. The arrangement at the resort makes it super easy to explore nature, attend wine tastings, set up amazing dining experiences, and participate in unique wellness events. Arrangements for larger group events (250+) are available, too. 
Dining and Wine Tasting
The on-site restaurant at The Vineyard at Florence, The Farmer's Commons, gives off an aura of Italy's finest restaurants. It's worth making a reservation for. Executive Chef Soraya Spencer stays true to Texas with the menu but uses appropriate flair from global cuisine. They craft elevated comfort foods using the highest quality, locally-sourced ingredients. 
The Spa
Relax with massages like therapeutic Bodywork, prenatal, Swedish, lymphatic, and/or hot stone. Spa parties and more are available upon request. There is a pool and fitness center available as well for the perfect getaway.
Pampering Near Georgetown 
Sometimes life gets overwhelming and you might need a romantic getaway or a day at the spa to rejuvenate. The Vineyard at Florence is as good as it gets and it's just up the road from Georgetown, which makes saying "yes" to a weekend getaway that much easier. Having a world-class spa and vineyard so close by is just one more thing that makes life in Georgetown sweet.
The high quality of life in our city is getting a lot of attention. People are moving here faster than ever before. The fact that you can drive north 30 minutes and be in a world-class vineyard and resort, or you can drive 30 minutes south and be in Austin is a huge perk of living here. 
If you're looking for a new home near Austin, check out Parmer Ranch in Georgetown. New homes are being built in Parmer Ranch as you read this. The family-friendly amenities, schools, parks, and neighborhoods can be at your fingertips for you to enjoy. 
Steer your new life in The Texas Hill Country where you're sure to prosper and grow alongside your family. Everything you want and need is at Parmer Ranch in Georgetown. Contact us for more details about our inventory in the finest master-planned community north of Austin.
Image from The Vineyard at Florence Facebook.