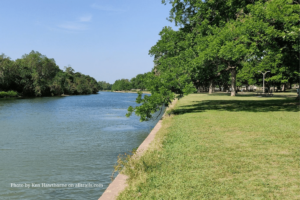 City parks are more important than most people give them credit for. Parks are where a community can gather on equal ground to socialize, get exercise, enjoy nature, and more. City parks also have a big impact on the economy, creating jobs and contracts for service providers. Let's not forget about the environment either… so much nature is preserved in city parks. 
Georgetown Parks and Recreation maintains more than 40 parks, nearly 18 miles of hike and bike trails, and 3 disc golf courses. We're fortunate to have access to so many beautiful parks and outdoor spaces, but (arguably) the crown jewel of them all is San Gabriel Park. 
San Gabriel Park is located along the banks of the San Gabriel River where the North and South forks meet, between the river and Austin Avenue. The park is widely known as one of the most beautiful in Texas, and improvements by the City of Georgetown are still ongoing.
San Gabriel Park was designated a Lone Star Legacy Park by the Texas Recreation & Parks Society in March 2012. The Park is one of only nine in Texas to be awarded this designation in its inaugural year. Award-winning parks are chosen for their historical prominence, providing natural respite and social interaction for people as communities were founded, developed, and prospered.
San Gabriel Park is graced with 200-year-old oak trees that offer shady spots for family picnics. The 180-acre park also provides space for concerts and festivals, as well as fields for soccer, football, lacrosse, and baseball. A hike and bike trail goes through the park, including a 1.6-mile loop in the park and other segments that connect to Blue Hole Park, Rivery Park, Chautauqua Park, and all the way to Lake Georgetown. There is also a 9-hole disc golf course at the north end of the park.
But the development of the park isn't finished. There is more to come!
Big Plans For San Gabriel Park
The park is being developed by the city in 4 phases. Phase 1 saw playgrounds, sensory walks, parking, and entrance improvements completed at the park. Phase 2 brought basketball courts, restroom facilities at the disc golf course, two new playgrounds and swingsets, additional pavilions, road improvements, restoration of two existing springs, and trail improvements—including the extension of the San Gabriel trail to Katy Crossing neighborhood.
Upcoming improvements in phase 3 for San Gabriel Park will include:
Entry monuments & signage

 

Pavilions

 

Central Green 

Teen Plaza / Skate Park 

Splash pad 

Restrooms 

Parking
Funding for the design of Phase 3 was approved in the Fiscal Year 2022 budget, and funding for construction will be requested in the Fiscal Year 2023 budget.
Also, in June 2022, Georgetown Parks and Rec held a public design meeting for the skate park proposed for San Gabriel Park. According to the parks department, the future skate park will follow the latest design trends and will include features to accommodate multiple user groups as well as varying skill levels—good news for both Georgetown's aspiring pro skaters and beginners alike.
Working Together for Growth and Prosperity 
The San Gabriel Park plan is a great example of how Georgetown's city leaders and residents work together to bring meaningful change and growth to our city. A city bond for the park was secured in 2008, and master planning started in 2015. San Gabriel Park will continue to be a place that everyone in Georgetown can be proud of and enjoy for generations to come.
Georgetown's functional and cooperative city government is a major reason that our city became the fastest-growing city in the U.S. for cities with a population above 50,000, according to the U.S. Census Bureau. Life is better when everyone works together, and it makes Georgetown an attractive place to live and raise a family.
Many families are relocating to Georgetown because of the people, culture, location, weather, schools, access to nature, and the great feeling you get in the Texas Hill Country. If you're planning on relocating to the greater Austin area, it's important to know that there are several options for settling down, but they're not all created equal.
Parmer Ranch in Georgetown is a popular choice because of its ideal location near Austin, amenities, spaciousness, quality homes, great schools and parks, and overall value compared to other communities in the area. If you're hunting for the perfect spot to settle down, then don't hesitate to contact us to find out more. 
Photo source: https://www.alltrails.com/trail/us/texas/san-gabriel-loop-trail/photos