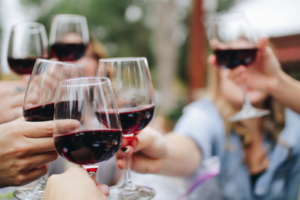 The 13th Annual Georgetown Swirl
Aside from being known as the "Red Poppy" Capital of Texas due to the insane amount of red poppy wildflowers planted throughout the city, Georgetown is known for its slew of annual events. And if you're an avid lover of fine Texas wines and cuisines, then the 13th Annual Georgetown Swirl is one event you can't afford to miss in March. 
You may be asking, what is the 13th Annual Georgetown Swirl all about? 
The Georgetown Swirl is an annual event in Georgetown, Texas that focuses on tastings of popular local wines. An evening of downtown shopping with food samples from the best local restaurants is fantastic in and of itself, but when combined with live jazz music and wine, this is a fun-filled day of festivities that should not be missed.
Discover the 13th Annual Georgetown Swirl
With the 13th Annual Georgetown Swirl fast approaching, staying ahead of the event in terms of preparation is key. And one of the best ways to prepare and experience awesome fun with friends and family is by being informed about what to expect during the event. So whether you're a new resident in the newly-built Parmer Ranch master-planned community or a lifelong resident in Georgetown, the following information is just all you need. 
For starters, the 13th Annual Georgetown Swirl event will feature a masquerade theme (dress accordingly!) and will be held Saturday, March 4, from 5 PM to 9 PM. 
Regarding tickets and pricing, 500 General Admission tickets will be available for $50 each, and 100 VIP tickets will be available for $125 each. You can click on this link to learn more about purchasing a ticket for you or your family.
Aside from the opportunity to connect with friends and family members, the 13th Annual Georgetown Swirl is designed to offer loads of fun activities to its attendees. Here are some details about the activities you can expect.
On the day of the event, ticket holders will arrive at Georgetown Square to receive a commemorative plate, wine glass, and a wristband with ten pull-off tabs.

As the guest enters a winery booth, they may decide to pull out a tab and hand it to the winery representative. The winery will then provide the guest with a 2 oz. sample of wine. If it's a winner, you can purchase wine by the glass or bottle.

Together with the wine sample at each participating location, the guest will receive a meal sample from one of the locally-owned restaurants that will be attending.

Guests will also be treated to multiple art displays and live jazz music by Swing Shift, which will undoubtedly create a great atmosphere for sipping and strolling!
Another key highlight of the upcoming 13th Annual Georgetown Swirl will be the donation of all proceeds towards the Main Street Facade and Sign Fund, which has awarded over $600,000 in matching grant funds. The Main Street Façade and Sign Fund reimburse business owners in the historic downtown district for a share of upgrades to building facades and new signs. 
Sign matching grants of up to $500 are given, as well as façade matching grants of up to $10,000 for external work on a historic structure. The Georgetown Main Street program aims to promote historic preservation and economic development efforts in the historic downtown. Click on this link to learn more about Georgetown Main Street and its mission. 
And if you want to be close to events like the Georgetown Swirl year-round, check out Parmer Ranch, located just 10 miles from downtown Georgetown! Our community will offer families of all ages and lifestyles the perfect place to call home. Visit our website to contact our builders about available homes, or to learn more.