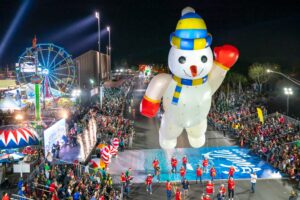 What to add to your Holiday Bucket List this season
Whether we're ready or not, Christmas is right around the corner! While there's plenty of fun to have in and around Georgetown this year, there is no shortage of things to do outside the city. 
We put together this short list of fun family ideas for shopping, experiencing the natural beauty of Texas, and some other ideas for embracing this season in our great state.
1. Fall Foliage at Lost Maples State Natural Area
While not super Christmas-y in of itself, this 3-hour trip from Georgetown to Vanderpool to visit the Lost Maples State Natural Area is worth it. December is a great time to visit because you can still catch the tail end of the foliage season, but the park isn't as crowded as in October or November. (It's still a good idea to make a reservation just in case you show up on a crowded day).
Lost Maples offers hiking, camping, fishing, birding and seeing some of the most impressive (and latest season) fall foliage in North America. A trip to Lost Maples could be the start of a new family Christmas tradition!
2. Glamping at Camp Fimfo
Camp Fimfo is a glamping resort located in New Braunfels on the way to San Antonio. This unique resort offers amenities, RV spots, cabins, and other camping options. It combines high-end resort stylings, but with a camping twist.  
You can fully embrace being in nature or you can spend time playing mini golf, yard games, pickleball, basketball, and more! This is a great option for families with varied tastes and interests, as there are dozens of options for entertainment and leisure. 
3. Grapevine – The Christmas Capital of Texas
Located about 3 hours north of Georgetown, Grapevine is a city designed for people who absolutely love the holidays and Hallmark Christmas movies. The city turns into a charming, small-town winter wonderland for 40 days leading up to Christmas. Everything from parades, train rides, shopping, ice skating and more are starting up soon in Grapevine. 
There is no better place to soak up the Christmas spirit. While many of the attractions and displays are open to the public, some events have entry fees, so be sure to get tickets in advance for the events you'd like to attend.
4. Canton Trade Days
Canton is a 3-hour drive north of Georgetown, and it's home to the largest flea market in America. The world's largest outdoor trade days take place on the Thursday – Sunday before the first Monday of every month in Canton. The next big event will be Dec 1st – 4th, 2022.
If you're looking for a unique gift for someone, (or yourself,) this is the place to find it. One-of-a-kind pieces are available from so many different vendors and artisans. 
5. McAllen Holiday Parade
Want to see a Christmas show like no other? On December 3rd, 2022 at 6 pm, McAllen (5.5 hrs south) puts on the largest holiday and helium balloon parade in Texas. The 1.5 Mile stadium & street parade route features balloons in the new "Vuelta Zones," illuminated floats and surprises, celebrity hosts and guest appearances, marching bands & dance teams, and more. Tickets  and more info about the festivities can be found here.
6. Georgetown Christmas Stroll
If you're in the mood for something closer to home, then you're in luck! Georgetown's 41st annual Christmas Stroll features a variety of live entertainment, shopping, dining, and activities in historic Downtown Georgetown.
The two-day event starts at 5 pm on Friday, December 2nd and runs until 9 pm. The following day, the festivities kick off with a holiday parade at 10 am. The Stroll runs all day from 10am – 8pm on Saturday. It's a chance to shop, eat, and enjoy the holiday spirit downtown with the Georgetown community. 
Which to Choose?
During the busiest time of the year, it's convenient to be near a big city like Austin to fully embrace the holiday season. But at the end of the day, the big city can easily become overwhelming. Georgetown is the perfect place to call home, as it's a convenient distance from Austin while also giving residents something peaceful to come home to at the end of the day. 
If you're considering purchasing a new home near Austin to raise your family, take a look at our master-planned community, Parmer Ranch. Our exclusive community is far enough away from the city to escape the hustle and bustle but close enough that when the holiday shopping needs to be done, Austin is a quick trip away.
Combine that with our top-notch amenities, open spaces, and beautiful homes, and you've got everything you could ever want or need to live a full life. Contact our team to get more details about life in the best master-planned community near Austin.