Antique Shopping in Georgetown, TX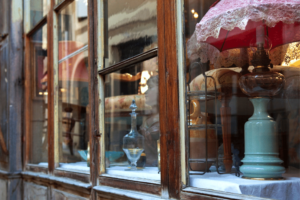 It's not surprising that so many people are into antique shopping these days. Antiques provide decorating options that are one-of-a-kind. Hand-crafted furniture, artwork, and glassware from a century ago give your home a unique feel that you can't recreate any other way. Whether it's a marble and travertine table or a Burl Wood credenza, antique furniture is becoming more popular with decorators each year.
Collectors can even make antiquing a profitable side hustle. There are a growing number of people who scour and search shops and bazaars looking for silver, vinyl records, coins, electronics, or ceramics that have increased in value. These antique hunters are rewarded for their efforts with rare or even one-of-a-kind pieces that are literal treasures. 
Homes & Gardens, a top interior decorating magazine, reports that interest in antique shops in the U.S. has recently risen by approximately 50%, antique auctions have increased by 80%, and antique market openings have jumped by 129% in the last ten years. 
If you're into hunting for rare and special antiques, then Georgetown is the perfect place to search for your next find. There are more than a few places around town where you can get started on your search:
Georgetown Antique Mall
The Georgetown Antique Mall has some of the best antiques and collectibles in Central Texas. They offer silver, stained glass, linens, china, furniture, glassware, jewelry, books, lamps, costume jewelry, cufflinks, fine furniture, Civil War memorabilia, and much more. 
Apart from providing a massive selection of unique items, they also do appraisals, furniture and lamp repairs, and chair caning. It's a one-stop shop for buying, selling, and fixing anything antique.
6th Street Relics & Antiques
With a focus on the unusual and hard-to-find, E. 6th Street Relics & Antiques offers a wide range of antiques. Whether you want vintage advertising, precious treasures, or industrial chic, you'll find it here.
The owner, Joy Wittera, has carefully curated her shop into a place that not only houses beautiful and interesting antiques you can purchase, but also provides important historical information. Joy provides an educational experience alongside your shopping. Items are artistically displayed with informative labels and tags.
Gatherings
Gatherings in historic downtown Georgetown has become known as a hidden gem amongst antique stores in Central Texas. Their shop has a large collection of antiques, vintage, and vintage-inspired treasures from all over the U.S. and Europe. 
Find everything from artwork, furniture, ceramics, vintage signage, glassware, and even sculptures at Gatherings.
The Collector
The collector is focused on rare coins and currency, gold and silver, framed historical documents, and pre-Columbian antiquities. You can buy and sell these types of antiques here and find rare items to round out your collection.
Rough & Ready 
Rough & Ready has a wide assortment of antiques themed around country, garden, and shabby chic.  Find everything from arts & crafts, items from the earliest era of Texas, and possibly anything else you might be collecting. They've got the right stuff at the best prices in Texas.
Shopping and Living In Georgetown
The old photographs you can find in Georgetown's antique shops paint a picture of the city's resilience and tranquility. The spirit of Central Texas is well-preserved in Georgetown. Neighbors and community members still work together to create a better life for everyone, just as they did when the city was founded in 1848.
If you're looking for a new home in Central Texas near Austin that's worthy of a postcard, but you'd prefer to keep away from the hustle and bustle of a bigger city, Parmer Ranch in Georgetown is the perfect spot for you and your family. The schools, amenities, location, and building options make it ideal for families who need quick access to Austin, but who also want to preserve their peace and quiet while they enjoy their downtime. 
If that sounds like a good fit for you and yours, reach out and contact us for more information about how to make your new home near Austin in Parmer Ranch.
Happy antiquing!