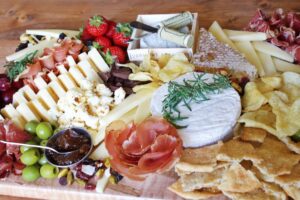 Charcuterie and Wine: Union Merchant in Georgetown 
Want the best of the best wine and cheese in Central Texas? 
Union Merchant is the place to enjoy wine paired with a charcuterie board near Austin. Located Downtown at 224 E 8th Street in Georgetown, they provide a sophisticated and relaxed atmosphere to enjoy the little things that make life the most enjoyable. Their hours are Wednesday and Thursday from 12 pm – 8 pm, Friday and Saturday from 12 pm – 9 pm, and Sunday from 12 pm – 6 pm.
While there are several different options for high-quality wine and cheese nearby, Union Merchant is the only one that serves them in a beautifully restored historic building and an outdoor courtyard. Vaulted ceilings, exposed beams and millwork, industrial lighting, and expansive windows with a unique blend of modern and rustic accents make this the perfect place to meet with friends in a pleasant atmosphere.
Living History in Georgetown
Union Merchant's building served a more utilitarian purpose in the past. Originally built as a blacksmith shop specializing in bicycles and buggies in 1919, the building has since served as an Oldsmobile repair shop in the '50s, and a one-man transmission shop in the '80s.
In 2013, the building was converted to The Union on 8th, which served as an event center in Downtown Georgetown. 
In 2022, seeing a unique opportunity to serve Georgetown's growing needs for high-quality food and wine, Union Merchant was opened by local "wine guy" Michael Walton. He and the Union Merchant staff have made great efforts to keep the building's rustic charm as they turned the space into a premier place to enjoy a posh afternoon with friends. 
Treats to Look Forward To
Union Merchant is more than wine and cheese in a beautiful building. Louis Sherry Chocolates, Jean Vaselle Champagne, Truffle Butter, ​​​​Walnut Gremolata, ​​​​​​Easy Tiger Baguettes, and Portuguese Tuna Filets are just a few of the delicacies on offer. ​​​​Union Merchant is also a great place to pick up gifts for any occasion. 
New and Old Georgetown
Georgetown is growing in all the right ways. Part of Georgetown's recent rise is reflected in new, high-end establishments like Union Merchant. Our traditions and buildings must keep their historic charm as they're updated for a new era of prosperity and growth. The recent population boom in our city has made top-tier retail and restaurant businesses more popular than ever, which is great for the local economy, our community, and the future of the city. 
If you're searching for a new home near Austin and you're interested in becoming part of what's happening in Georgetown, then it's worth looking into Parmer Ranch. Our master-planned community in Georgetown puts you close to Austin and provides everything you and your family need to thrive. Great schools, thoughtfully-designed homes, parks, open spaces, and impressive amenities are all part of the package.
Contact us for more information and take a look at our current inventory of homes to get a better idea of what's available.