Homebuilder Spotlight: Empire Communities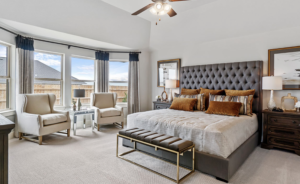 There are a host of reasons soon-to-be residents of Parmer Ranch have chosen it as their home in Georgetown. With its location in a first-rate school district, close proximity to Austin, and numerous amenities, there's a lot to love about our wonderful community. Ask any of our future residents about why they decided to buy in Parmer Ranch and they'll surely mention the value and craftsmanship of the homes that will be available.
Each home will be constructed by some of the finest homebuilders in Central Texas—one of those builders being Empire Communities.
With nearly three decades of experience, Empire Communities has had a hand in building over 28,000 homes in 90 different communities across both the United States and Canada. This makes Empire, not just one of the largest homebuilders in the U.S., but one of the most experienced, particularly in the Central Texas region.
Empire Communities has built homes across the area in Austin, Pflugerville, San Marcos, and of course, Georgetown. (We're also in Liberty Hill, Cedar Creek and Kyle.)
Empire Communities Homes Available
Each of Empire Communities' homes that are spread across Parmer Ranch's 450-plus acres is a design that encompasses both stylish architecture and modern sustainability. We currently offer homes on 40' and 50' homesites that are designed to appeal to a range of budgets and family sizes.
50' homesites starting in the $400s | Now Selling
1 and 2-story homes
3 to 5 bedrooms
2 to 3.5 bathrooms
2 car garage
1,554 to 2,973 square feet
40' homesites COMING SOON | We'll go to sell on this product line on January 28th. Pricing will be announced at that time.
1 and 2-story homes
3 to 4 bedrooms
2 to 2.5 bathrooms
2 car garage
1,414 to 2,393 square feet
Each Empire home has been carefully designed to meet the lifestyle needs that today's homebuyers desire. While each home includes open floor plans with modern fixtures and light and bright interior colors, a range of floor plans are available, many with customizable options. The most popular floor plan includes a study, bonus room, and fireplace, as well as a spacious kitchen with a walk-in pantry. Whether you're looking to downsize with your next home or move up to something a little bigger, Empire Homes offer something for every lifestyle.
Move-Ins Made Easy
We know that moving can be exciting, but also incredibly stressful at times. That's why we offer a number of homes available and ready for a quick move-in. Starting at $513k, and available in August of 2022, these homes have been thoughtfully planned by the architects and interior design team at Empire Communities to be a no-fuss home that buyers can make their own, without the headache.
Our quick move-in homes currently on the market range from just under 2,000 square feet to 2,973 square feet and include both 3 and 4-bedroom homes, as well as 2 and 3.5-bathroom options.
Whether it's grabbing a bite at our food truck court with a neighbor or simply kicking back on the patio with the family, we know it won't take long for you to feel right at home at Parmer Ranch.
Contact us to learn more about our Empire Community homes.