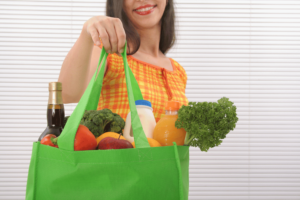 There are so many ways to do good for our planet. You may be surprised to learn that the average American produces about 4.4 pounds of trash per day! That adds up to over 1,000 lbs of waste a year! The good news is that there are a lot of small steps you can take to help limit the waste you generate each day. 
Use Reusable Bottles and Bags
Put that reusable water bottle to use and avoid the lure of buying more expensive beverages on the go (water is better for you anyway!) This cuts back on a great deal of plastic and the same can be said of reusable grocery bags. Take your reusable grocery bags with you to the store and help prevent the buildup of plastic bags in landfills. Plus, reusable bags are heftier and can typically hold more than the average grocery store bag. That means fewer trips to the car!
In addition to reusable bottles and bags, you can minimize waste by eating more plant-based meals, buying fewer single-use items such as plastic plates, utensils, and cups, and shopping for sustainable brands when you can. 
Reduce Food Waste
By far the largest solid waste item sent to landfills is food. Help reduce food waste by taking stock of what's in your fridge and making a list before you go shopping for groceries, using what you can out of your fridge before adding to the shelves. You can also compost your food so that you have nutrient-rich soil to plant with.
A great way to help reduce food waste is to shop at your local farmers market in Georgetown. Not only will you be supporting local farmers and enjoying the freshest produce, but you may also be able to buy in bulk and return the baskets or cartons for the following week. This is a win for everyone!
Go Paperless
Hate junk mail and bills piling up? So do we! The good news is that more and more companies are embracing the digital revolution and going paperless. Some even offer you a slight discount for doing so. If you read a lot of magazines or newspapers, check to see if there's a digital version that you can read on your tablet or phone. It may be a little cheaper too! If you aren't ready to give up your morning newspaper, reuse or recycle the paper when you're done!
Conserve Electricity
You can take small steps at home to help curb waste as well. Simply turning off the lights when you leave the room, putting on layers when it's cold instead of cranking the heat, or minimizing the use of air conditioning when possible can do a lot of good for the planet. If everyone in the community followed these steps, imagine how much we would collectively reduce your carbon footprint.
A Community that Cares for People and Planet
If you're looking to move to an area that incorporates modern living while also providing a lifestyle among the natural landscape our planet offers, check out Parmer Ranch in Georgetown, Texas! Our master-planned community offers residents all the amenities you could want while preserving the beauty of central Texas. With bountiful parks, play areas, and quality homes, it's the perfect place to raise a family and enjoy the beautiful scenery that only Mother Nature can provide.