Local Spotlight: Sweet Eats Fruit Farm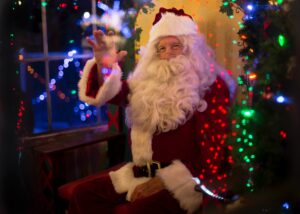 With the dog days of summer finally behind us and the crisp fall air finally making its way into Texas, an array of autumn fun awaits. One of the highlights of the season around Parmer Ranch is Sweet Eats Fruit Farm on Highway 29. The local fruit farm is a Georgetown favorite where fun, adventure, and something tasty is always around the corner.
Since 2013, this fully-working farm run by the Meredith family has grown everything from peaches, nectarines, and plums to cherries and strawberries. Sweet Eats is about more than just providing environmentally-friendly grown food that's healthy and delicious — it's about fun and family.
If you haven't yet visited the farm, fall is the perfect time to do so. From fall festivals to bonfires, food trucks, and a near-endless amount of things for kids to climb, jump, and swing on, it's easy to see why Sweat Eats Fruit Farm is such a hit with families.
It's Fall Fest, Y'all
Now through November 14th, visitors can enjoy Fall Fest. You're guaranteed to find the perfect pumpkin at what we're confident is the biggest pumpkin patch in Texas. No joke—they have 40 varieties of pumpkins!
Visitors can also spend time weaving through the 4.5-acre corn maze or jump aboard a wagon ride. After you've worked up an appetite, you'll want to nosh on a smoked turkey leg or perhaps grab a snow cone or craft beer and relax by one of the campfire rentals.
It's Party Time
Birthdays are kind of a big deal around here and Sweet Eats Fruit Farm seriously knows how to throw down for a birthday. What makes birthday parties at the farm such a hit with families is the near-endless amount of activities for kids to explore. From picking sunflowers to pig races and pedal carts, tire mountains to traverse walls and face painting, birthday parties at the farm are all about fresh air and fun. Boredom simply isn't possible at a birthday party here.
The farm makes birthday planning simple and headache-free for parents with online reservations and can accommodate groups of up to 45 people.
Celebrate the Season
We'd be remiss to not highlight one of the most magical times of the year at Sweet Eats Fruit Farm. While there's really no wrong time of the year to visit, the Christmas Festival is just the thing to put you in the holiday spirit.
Kicking off November 26th, families are invited to the farm to partake in some seasonal fun. The farm will be decked out with yuletide cheer and Santa himself will be on-site to take gift requests from the little ones and family photos. Not only that, but St. Nick will also be bringing some of his reindeer along with him.
After visiting with Mr. Claus, visitors can check out the life-size gingerbread house, munch on some apple cider doughnuts, or take aim and shoot an apple cannon.
Whether you're visiting for a birthday party, the Fall Festival, or any other weekend, there really is nothing like a day on the farm.