Food, Health, and Learning: Sanctuary Holistic Kitchen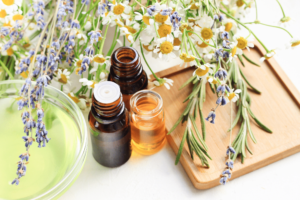 Sanctuary Holistic Kitchen in Georgetown is more than just a place to get amazing locally-sourced food prepared with love. Sure, you can swing by Sanctuary and pick up herb-roasted chicken with dilly potatoes and French braised Brussels sprouts for dinner anytime…
But did you know that you can also get health consultations and coaching sessions, cooking lessons, locally-sourced products, traditional medicine making, natural skincare, plant crafts, aromatherapy, natural healing help, and more?
Robin Cervantes is the founder and mastermind behind Sanctuary Holistic Kitchen. Robin serves as Master Kombucha Brewer and Head Herbalist of SHK's Apothecary & Skin Care line. She is a graduate of The Institute for Integrative Nutrition as a Certified Integrative Health Counselor and certified by the American Association of Drugless Practitioners. Her background includes over 20 years of education experience. 
Unique Menu Highlights 
Sanctuary Holistic Kitchen's grab & go options make the perfect small meal, all perfectly portioned and nutritionally balanced. Everything is made with organic, locally sourced, and free-range ingredients. 
Their menu changes seasonally and the availability of particular items may change. Sanctuary Holistic Kitchen is a top allergy-free kitchen (gluten, dairy, eggs, corn, soy, peanut, shellfish). However, they do process some tree nuts in-house. They have options for Vegans and Non-Vegans alike.
Farm Fresh Salads
Fruits, veggies, nuts, seeds, and gluten-free grains balance out these delicious salads. Each salad is tossed with healthy oils and citrus or vinegars, with tastes directly from local farmers and always inspired by the seasons.
Seasonal Soups
Blended, Broths, Chilis, and Bisques. Fill your belly with nutrients straight from the farm. These are sold frozen in 16 oz compostable containers. Varieties vary throughout the season. Some soups may contain tree nuts. 
Kombucha
Kombucha is a fermented tea naturally high in beneficial bacteria, probiotics, glucosamine, and B vitamins. They serve simple, old-fashioned kombucha, herbal in character with a dry finish. Available in a variety of sizes and seasonal flavors. 
But like we said, it's not just about the food…
Learning Opportunities and Workshops
Sanctuary Holistic Kitchen offers workshops on tons of helpful subjects. Here are a few classes that are worth attending:
Organic Gardening 

Medicine Making 

Healthy & Traditional Cooking Techniques

Fermenting Workshops 

DIY Spa Classes 

Sustainability Education 
One of the community's favorites is our Kombucha Clinic, where we arm you with the tools to successfully brew and bottle your own kombucha at home. These workshops aim to help Georgetown eat great, learn new skills, and empower the community with knowledge not just to help themselves live a cleaner life, but to leave a better planet for future generations.
A Georgetown Gem
Places like Sanctuary Holistic Kitchen perfectly round out the food culture in Georgetown. For instance, it's nice to eat great BBQ. But, it's also nice to eat some simple, healthy food that helps balance your gut bacteria with probiotics. 
It's also nice to have a place to learn how to care for your skin without the use of harmful chemicals. It's a huge benefit to have so much knowledge (and kombucha) on tap in our town. 
Businesses like Sanctuary Holistic Kitchen are a big reason why Georgetown is growing so quickly and becoming the best place to settle down near Austin. More than a few families have decided to put their roots down here because of the weather, food, culture, location, access to nature, and great schools, 
If you're considering purchasing a home near Austin like so many others these days, then it's worth checking out Parmer Ranch in Georgetown. With our great location, amazing homes, amenities, parks, and the calm serenity that you can feel in the Texas Hill Country, you and your family can start a new chapter in style. Contact us for more info on how to make it happen.