Georgetown's Autumn Art Stroll & South Main Arts Festival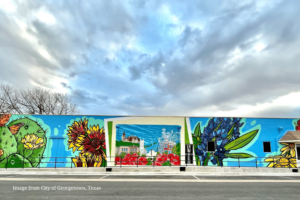 Art is important. It helps celebrate and interpret history, it helps to process challenging subjects and emotionally difficult material, and it also helps form a cohesive cultural identity. Art remains a critical part of a vibrant and healthy community.
The Georgetown Arts & Culture Program does everything it can to help people participate in the art, music, theater, and cultural learning opportunities in Georgetown. Two of these opportunities are coming up: The Autumn Art Stroll and South Main Arts Festival. 
These events celebrate our artistic heritage by featuring local artists, demonstrations, performances, live music, and art shopping opportunities. Both events are perfect chances to get to know the local art scene and shop for art that can breathe new life into your home or office.
Autumn Art Stroll
The Autumn Art Stroll runs from 4-8 PM on October 21, 2022, in the Downtown Georgetown Cultural District. You're free to stroll at any pace, anywhere you like, but these scheduled events provide a good map for the event:
4 PM at the Shotgun House Museum: The Georgetown Sculpture Tour award ceremony

5:30 PM at the South Main Arts District (817 S. Main Street): Ribbon Cutting Ceremony (This project received a Cultural District Grant from the Texas Commission on the Arts!)

6 PM at Grace Chapel (817 S. Main Street): Full Circle Artist Talk
Apart from the scheduled events, you can see some of Georgetown's finest murals and sculptures on your stroll. Fresh air, local art, and an immersive experience are what this event is all about. Downtown shops and restaurants are open for anything you might want or need during the art walk, so mark your calendar for this special evening.
South Main Arts Festival
The South Main Arts Festival runs from 10 AM – 6:30 PM on October 22, 2022. It celebrates the new South Main Arts District, which will be coming off of a ribbon-cutting ceremony at the Autumn Art Stroll. Here's the schedule for the day:
11 AM – Theatrical performance by the cast of Champs' Choice 

12 PM – Soulful blues by folk duo Winkler Mill

1 PM – Cosmic folk rock by Vaydra

2 PM – Soul pop by Stacie Agnew

3 PM – Indie pop/alt-country by Matt Cassidy

5-6:30 PM – Live musical performance by headliner and TCA Touring Roster Artist Sue Foley
You can also enjoy food trucks, live music, ribbon dancers, kid's art activities, pottery by Cordovan Art School, and outdoor theatrical performance. Fun for the whole family awaits at the South Main Arts Festival.
Supporting Art in Georgetown
The Georgetown Arts & Culture Program is a huge asset to our community. They throw their weight behind local artists and help feature their work prominently in public spaces. They (and so many other civic groups) partner with creators to improve our city and make Georgetown an even more vibrant place to live.
The added economic and artistic support has made Georgetown one of the premier places to move to in the USA. Georgetown is the fastest-growing city in the U.S. for cities with a population above 50,000, according to a recent Community Impact article. Georgetown's annual growth rate in 2021 was 10.5%, resulting in a population estimate of 75,420 as of July 2021.
People are moving to Georgetown because of the fantastic weather, the food, the countryside, the business-friendly regulatory stance, and the fact that Austin is close. Moreover, Georgetown's stakeholders care deeply. Art events, development, forward-thinking design, museums, art districts, and more are all products of their efforts. 
If you're one of the thousands searching for a new home near Austin, then Parmer Ranch in Georgetown is worth your attention. Our master-planned community is stacked with dream homes, amenities, parks, and an elementary school you'll love. Plus, we're close to Austin and everything else Georgetown has to offer. Building your dream home here cuts through the hassle of finding the perfect place to settle down near Austin.
Contact us for more info.   
*Image from City of Georgetown, Texas – Government.