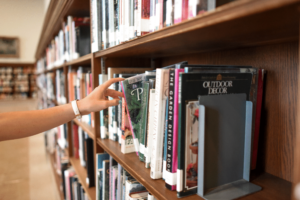 From exploring its archives and getting lost in a world of books to special events like the Cosplay Ball or Family Storytime, there's a lot to love about the Georgetown Public Library. The library bills itself as the "best little public library in Texas" and we happen to agree. A quick scan of the library's Facebook page or website, and it's immediately apparent that this library isn't a sleepy place full of dusty old books, but a vibrant institution of exploration, creativity, and fun. 
If it's been a while since you visited the library, here's everything you need to know about all it has to offer and a few reasons why you'll want to visit soon. 
Plan your visit
The library is typically open seven days a week, Monday to Thursday from 9 AM to 8 PM, Friday from 9 AM to 6 PM, Saturday 9 AM to 5 PM, and for a half-day on Sunday from noon to 5 PM. 
If you're a Georgetown resident then you'll definitely want to apply for a library card, as this is your golden ticket to much of what the library has to offer. The cost is free, you only need to bring a photo ID and proof of residence. Children just need a parent's approval. 
Besides having literally thousands of books at your fingertips to check out and take home, you can also rent everything from DVDs and CDs to magazines, eBooks, bicycles, and even cake pans. Yep, you can rent a cake pan for all your baking needs at this local library!
The library also has several computers that are free to use without a library card and you can print, scan, or fax documents for a small fee. Have an important project to work on or need a space to give a presentation? The library has several study rooms available that can accommodate up to four people as well as meeting rooms that can be reserved in advance and accommodate over 200 people.
The library doesn't limit itself to only local residents who have the capability to visit either. The WOW!mobile (words on wheels) brings library services to seniors, children, the physically limited, or anyone else who may be unable to visit. 
Events you don't want to miss
As we mentioned, there's a lot happening at the Georgetown Public Library with events for children, teens, and adults.
Adultish – is all about specialized programming for adults and in the past has included everything from crafts classes to wine tastings. There's also live music at the library on the third Sunday of each month as well as knitting and reading clubs. 
A look at the library's events calendar reveals a host of events from Family Storytime to art exhibits to a Cosplay Ball where teens are invited to dress as their favorite character for "music, food, and fun."
With so many services and an ongoing events calendar, the library is truly a place to be enjoyed by all in Georgetown. 
If you'd like to learn more about all Georgetown has to offer and find a home here, reach out to us today.