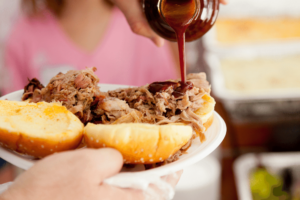 If there's one thing the Texas Hill Country is known for besides its beautiful natural scenery, it's the barbecue. For many Texans, barbecue is practically a religion down here and you don't need to look far for devoted congregations of brisket and pulled pork disciples praising their favorite smokehouse as the best. 
Whether you're hungry for ribs, sausage, or slabs of smoky beef so tender you don't even need to use your teeth to chew it, Georgetown has a number of stellar barbecue restaurants. From traditional barbecue joints that have passed down recipes for generations to places that are putting a new spin on the classics, you can't go wrong with these restaurants if you have a craving for 'cue. 
The Pit BBQ – You can often judge a barbecue joint by how barebones the decor is, and while the decor at The Pit is certainly nothing fancy, the fact that they've been in business 40 years says their priorities are in the right place. With specials like the Belly Buster Sandwich as well as family packs and meat by the pound, you can't go wrong with whatever you order. 
Hello Sweetie BBQ – A barbecue joint with a healthy dash of soul food, Hello Sweetie is sure to have something that will light up your taste buds, no matter what you're in the mood for. In addition to bbq staples like ribs and brisket, they also offer Frito chili pie, nachos, candied yams, and smoked turkey legs.
Tejano Cookers BBQ & Catering – Whereas other barbecue joints may wait until lunch to open their doors to hungry patrons, bbq fans can enjoy Tejano Cookers' meat masterpieces as soon as the sun's up. They start serving barbecue breakfast tacos at 8 AM and offer everything from pulled pork sandwiches to smoked chicken and once it's gone, it's gone!
Jimmy Vega's Smokehouse – It's not often that desserts can give ribs a run for their money, but that just might be the case with Jimmy Vega's Smokehouse. You're definitely going to love the Baby-Back Ribs and Smoke Roasted Bacon, just be sure to save a little room for the S'more Pie and Banana Split Pudding. 
Pok-e-Jo's Smokehouse – Founded in 1979, Pok-e-Jo's is all about "smokin' it slow and servin' it fast." What started as a barbecue experiment by two UT friends has morphed into a growing barbecue empire and they know a thing or two about cooking up great pork, beef, chicken, and sausage. 
Smokey Mo's BBQ – Smokey Mo's is a regional chain with 16 locations throughout Central Texas. Founded by Morris Melchor (aka Mo), the restaurants smoke their brisket for up to 14 hours and are known for their award-winning baked beans. Whether you hit Mo's up for breakfast or dinner, you won't leave hungry.
Hungry yet? There's no shortage of great places to eat in Georgetown – whatever you have an appetite for! If you're looking for a home here, reach out to us to learn more about finding your dream home at Parmer Ranch.