Georgetown, Texas Parks & Recreation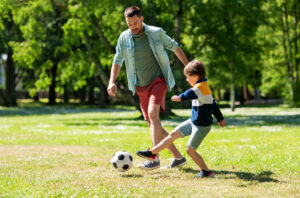 Georgetown, Texas is the ideal location for anyone who prefers spending time outdoors, water activities, days spent poolside, and warmer weather over bundling up and staying in during cold winter months. Although central Texas sometimes gets a mix of winter weather, for most of the year, it tends to be warm and sunny.
The pleasant weather is one of the many things Parmer Ranch residents love most about life in Georgetown, and there are ample opportunities to enjoy the city's beautiful parks and outdoor recreation. From swimming holes to fishing ponds, hiking trails to skateparks and paddle sports, there's no shortage of reasons to get outside and enjoy the great outdoors in Georgetown.
Garey Park 
This beautiful park is a favorite in the community, and for good reason! The former 525-acre ranch was donated to the city in 2004 and $15 million was poured into turning it into the park that residents know and love today.
Heading to Garey Park is a wonderful way for families to enjoy a weekend as the park is home to a playground and splash pad for the kiddos. Visitors can also enjoy its 7 miles of hiking and equestrian trails and numerous picnic areas. Looking for something at a little slower speed? Then grab your fishing pole and drop a line in one of Garey Park's two fishing ponds.
Go ahead and bring your pup along for a day at the park, too. Garey Park has an incredible dog park that's perfect for allowing canines to cut loose and burn off some energy.
The San Gabriel River
This river cuts through the middle of Georgetown and is a popular destination for the outdoor enthusiast who wants to burn some calories and work up a sweat. The Goldwater Loop offers hikers and trail runners a 26.9-mile trail along the river with numerous reasons to stop and enjoy the natural beauty. While some parts of the trail are a bit rocky and more strenuous, there are plenty of easier trails and pathways on the loop for hikers of all levels.
For those looking for some fun in the San Gabriel River, there are numerous spots to launch a kayak or find a shady spot for a little fishing. No kayak? No problem. San Gabriel Paddle Sports offers canoe and kayak rentals and will even drop you off and pick you up on the river or Lake Georgetown.
Perhaps you're simply looking to splash around and go for a swim? If that's the case, then grab your beach towel and head for Blue Hole Park. Located along the river, this park is surrounded by stunning limestone cliffs that welcome visitors to a natural swimming lagoon. As you might have guessed, this is a pretty popular spot on a lazy summer day.
We've really only scratched the surface of all the outdoor amenities available to enjoy in Georgetown. The city has over 40 public parks spaces for residents and visitors to make use of including playgrounds, pools, disc golf courses, and ball fields.
Whether you're looking for an exciting day of outdoor adventure or something a little more chill, there are plenty of places to play right around the corner from Parmer Ranch in Georgetown. Visit our website to learn more about becoming a resident of our community.