Sitterle Homes Offers Flex Space Floorplans in Parmer Ranch
The builder is best known for their ability to personalize their floorplans for their homeowners, reflecting each buyer's unique taste and style. Sitterle is proud to offer 5 new state-of the art floorplans; Montreux, Chamonix, Santorini, Athens, and Dublin that offer a flex space option to be used to the buyer's determination. How will you personalize your flex space? The choice is yours!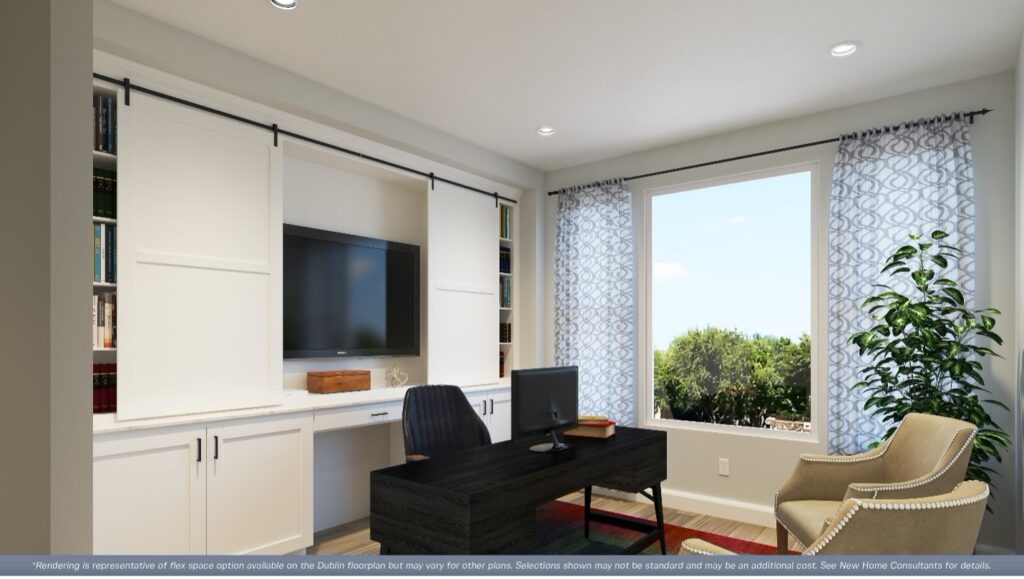 The Headquarters
As working from home becomes more common, families have a greater need for flex space that can serve as an office during regular working hours and as family space when you're off duty.
This office space design maximizes both comfort and productivity. Sliding barn doors cover computer monitors and cords, and a built-in knee space gives you easy access to your workspace. You can even incorporate a keyboard drawer to make sure you really put work away when you're ready to relax.
Natural light in your workspace fuels productivity, so this space incorporates plenty of it, with large windows creating a sunny, energetic work area.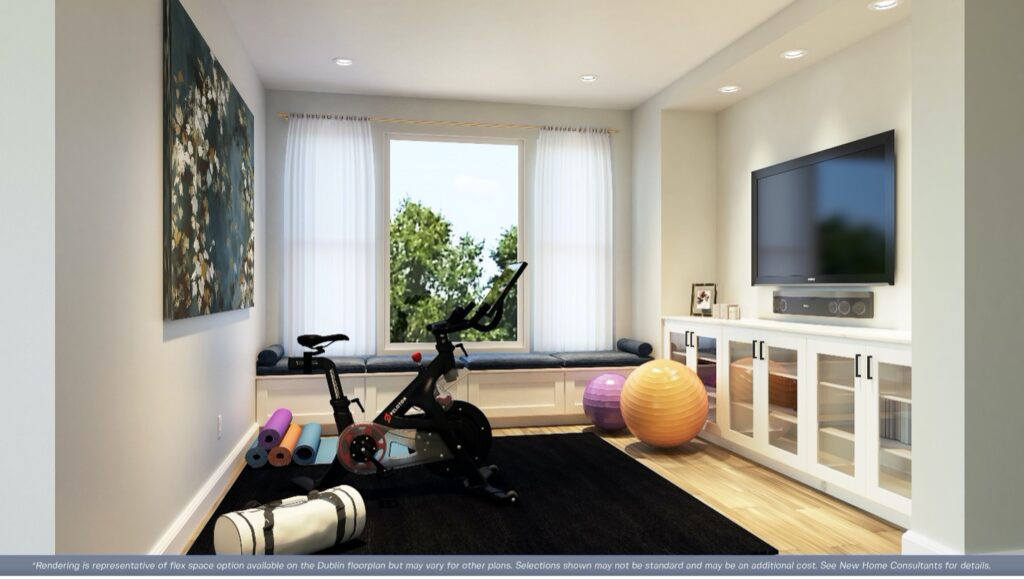 The Studio
Whether you're ready to craft, cycle, or create, use the enhanced flex option to give yourself space to do what you love. A window seat and built-in cabinetry open up additional floor square footage so the sky (or the ceiling!) can be the limit when it comes to fitting your hobbies into your flex area. One feature we always love in a studio or hobby room? Glass-fronted cabinets that make it easy to access your supplies or show off points of pride.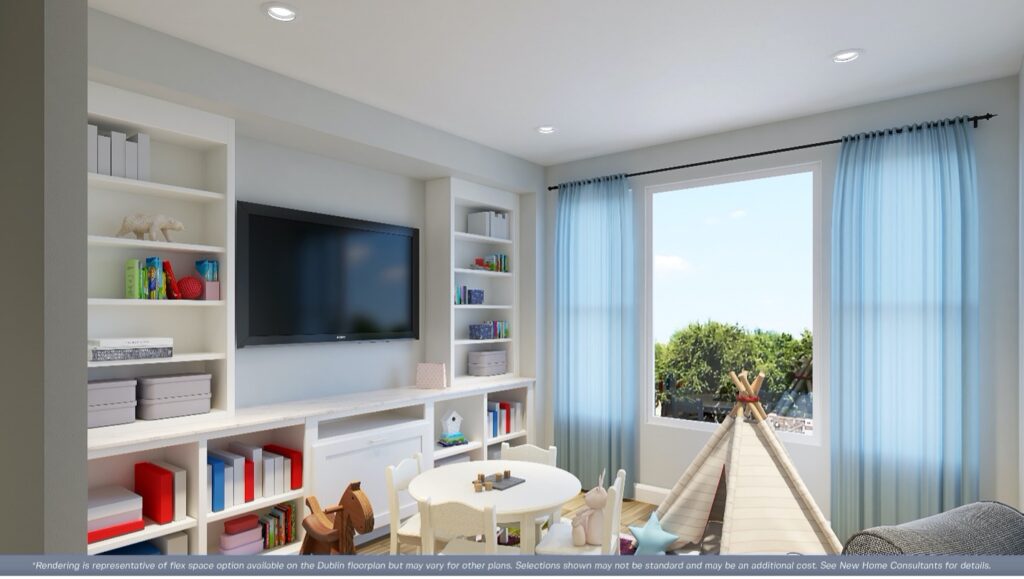 Imagination Station
For families with young children, a space for exploring, growing and playing is a must. The playroom option comes equipped with ample shelving for toys, books, LEGO® creations and more, so you can have a place for everything and everything in its place. And, with a space on the wall that's perfect for mounting a TV, your daytime playroom can become your family's movie night retreat.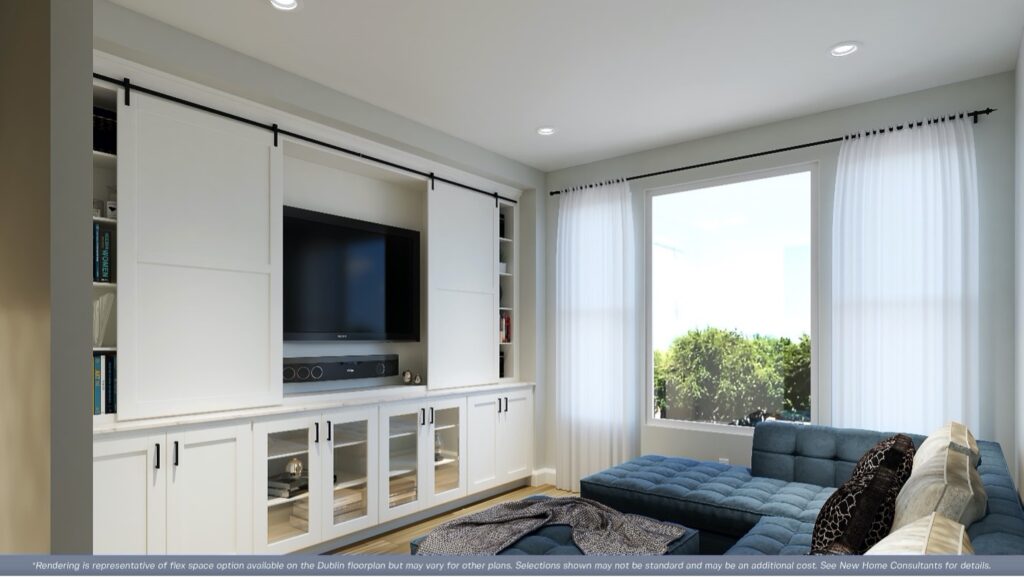 The Cinema
Who needs a movie theatre when you have a private cinema in your own home? Create a cozy oasis for relaxing with Netflix and takeout during a date night in, or deck the built-ins with your favorite team's memorabilia and make it the perfect place for watching the big game. Parents of teens, add some gaming consoles and make your house the cool one and the top neighborhood hangout spot.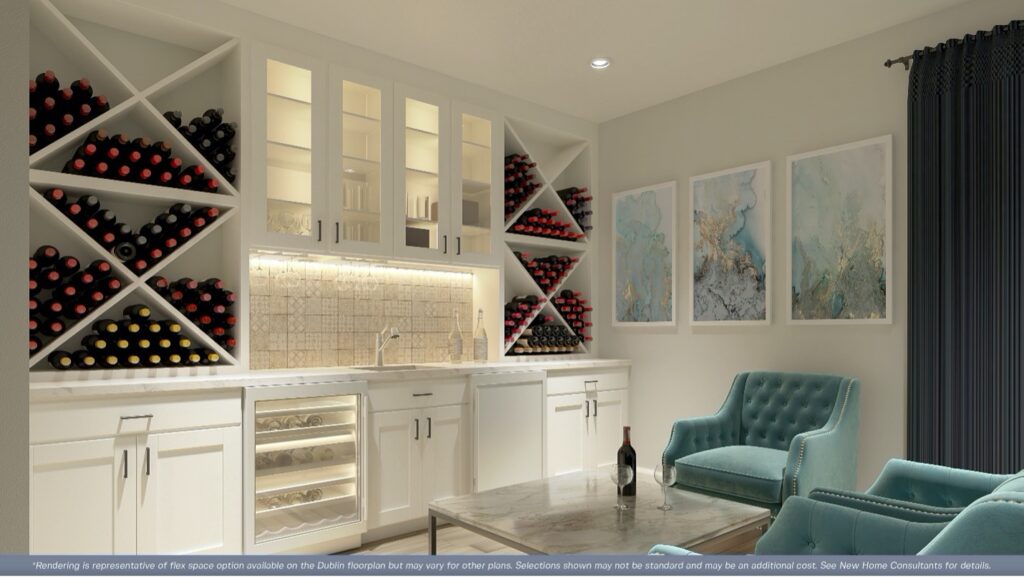 The Wine Cellar
Wine afficionados, rejoice! This wine room option is the perfect place to store, display, and of course, taste your favorite vintages. Entertain an intimate group of friends in the space as you savor both the beverages and the camaraderie. In addition to wine storage racks, the wine cellar option includes everything you need to host a group or just to relax on your own – storage space for your glassware, a sink and counter space, a fridge to chill those whites and rosés. Who's ready to pop open some bubbly?
Learn More About Flex Space Floorplans
To learn more or start building your flex space floorplan, schedule an appointment with our New Home Consultants- Jerrel Reynolds or Asa Brown.